We're raising funds to help our Aussie farmers
Across our sunburnt country, farming communities are fighting the growing and devastating impact of severe drought.
They've been hit hard by prolonged dry weather, especially in NSW, the ACT and Queensland. We were shocked to learn that approximately 99% of NSW and 57% of Queensland is in drought.
Families are carrying a heavy burden – not only the ongoing struggle to make ends meet, but the despair of watching their livestock perish, and the isolation they feel.
We want to help them so we're raising funds for the Australian Red Cross Disaster Relief and Recovery Appeal to Help Aussie Farmers. We'd love it if you could help by making a donation to our fundraising page.
Thanks for your support.
Thank you to our Sponsors Tafe Queensland Skillstech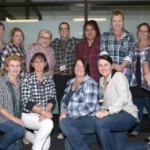 Tafe Queensland Ipswich Campus Tafe Queensland South West Region Tafe Queensland Corporate Office Karen White Anonymous Louise Cox Anonymous Susan Edie Tafe Queensland South West Region Nick Wood Karyn Bohun Kirstie Piper Kate Ormsby Ruth Ian And Ruth Mason Inger Andersson Peter Dowling Betty Kao Thao Nguyen Suzanne Gordon Robyn Cooper Anonymous Erica Flude Nathan Larsen Dianne Robertson Tafe North Bohle Dragana Kalanj Anonymous Tida Mcdonnell Patricia Matthews Brent Kinnane Leizl Estioko Caterina Ferlito Steve Schouten Anonymous Amber Belindo Jenny Smith Anonymous Anonymous Liz Tennent Anonymous Darren Davidson Caitlin Smith Kat Hong Anonymous Anonymous Grace Callan Anonymous Amanda Bosanko Belinda Davis Helen Stanley Richard Harrington Liz Filipe Anonymous Vanessa Kissane Jane Silcox Stella Musk Alyssa Bancroft Anonymous Janelle Neave Arlinda Talaugon Tiffany Nooan Kristie Collins Anonymous Ellie Ryan Honora Gee Julia Kidd Megan Horosko Kym Vellacott Kerry Taylor Rebekah Haagsma Anonymous Danielle Clej Amanda Geach Clare Clarke Anonymous Jo Logan Majid Al-thaheb Emma Wang Tq North Louise Evans Tafe Queensland South West Region Kumari Jayasekera Sally Kennedy Kathryn How Jenny Bernard Shelley Mitchell Anonymous Anonymous Narelle Fagan Julie Kerr Katie Grant Amanda Bush Peti-maree Ferguson Leigh-ann Geddes Anonymous Kylie Lee Anonymous Kate Mallory Anonymous Megan Jones Ann-maree Lucht Anonymous Tafe Queensland South West Region Jan Galloway Kate Creevey Anonymous Anonymous Terry Sugiura Anonymous Louise Vale David Wyvill Anonymous Bianca Cassandra Ryan Chontelle Bailey Anonymous Hannah Snow Anonymous Lauren Marti Anonymous Kim Bennett Kahl Bonthuys Anonymous Nicole Ziebarth Adam